Dr. Boettner has received the "Patient Choice Award" every year since 2008 and the "Most compassionate Doctor Award" since 2009. He received in 2016 the "America's Most Honored Professionals" Award which ranks him among the top 1% of America's Physicians. In addition he has been selected as one of New York's Top Docs and is one of the Top 10 Orthopedic Surgeon Specialists on the Upper East Side in New York.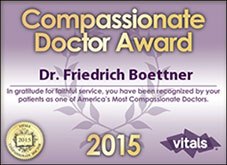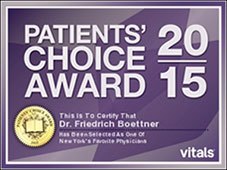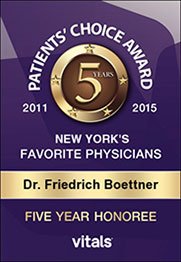 This video was mailed to Dr. Boettner by one of his patients 9 months after total hip replacement. Dr. Boettner does not advise his patients to do all the activities that are shown in this video! Please discuss risks and benefits of different activities with Dr. Boettner after your surgery.
I am almost 70. It has been over three years since Dr. Boetner gave me a hip replacement.
Ever since, I've been a new person. Can't believe how easily I can get about these days. It's just like before the operation. Recently, my husband and I raced around Paris in and out of the Metro going to the tourist sites. You would never had know that at one point I was almost bed ridden.
ML
Bronxville, NY
June 2, 2013
"I feel like I'm 41 years old – not 61!…"

I could not have been in a better facility. From start to finish,…
Lynn R. Red Hook, NY — bilateral knee replacements
I could not have been in a better facility. From start to finish, Dr. Friedrich Boettner and his staff could not have been more compassionate, professional and caring. As a registered nurse, I knew where I wanted to be treated for my bilateral knee replacements and traveling 100 miles from my home in Red Hook was worth it. I recommend HSS to my colleagues and as a case manager for a large insurance company, I do it with my patients.
"I am pain free and forever grateful to Dr. Boettner"

I have been extremely athletic since…
Laura K. New York, NY — hip resurfacing
I have been extremely athletic since I was a teen and played alot of rough sports. I studied karate for 13 years, I boxed for 13 years which included alot of running, and then played soccer for almost 4 years — alot of repetitive movement and high impact on the joints. Several years ago (at the age of 41), I was stretching at the gym after a good workout and felt something "pop" in my groin area.
"I had the very best professional care…"

I had a total hip replacement at HSS on February…
Traci P. New York, NY — hip replacement
I had a total hip replacement at HSS on February 26, 2010. I had the very best professional care. All of the supporting staff were helpful, courteous and friendly. The attention to cleanliness at HSS was impeccable. HSS is the place to be at, without exception. My experience at HSS was a good one. Dr. Boettner and his surgical staff explained things well and checked in regularly. Dr. Yens was wonderful as the consulting internist. She managed my pre-surgical care extremely well. My favorite staff people were the Nursing Assistants who respond to your needs with great care. It is difficult to have a stranger helping with personal care but they all were gracious and kind.
"Dr. Boettner did a magnificent job…"

I was extremely impressed by the excellent care…
Judith R. M. Livingston, NJ — knee replacement
I was extremely impressed by the excellent care I received at HSS when I had a total knee replacement in March. I will never cease to be grateful for it. My surgeon, Dr. Boettner, did a magnificent job, and all the nurses and therapists gave me superb care.
"I know first hand why HSS is ranked number 1…"

I have recommended Dr. Boettner and HSS to several colleagues…
Harold, Twp. of Washington, NJ — hip replacement
I have recommended Dr. Boettner and HSS to several colleagues and my boss had undergone a full hip replacement with Dr. Boettner two months ago.
Please read reviews about our practice at www.vitals.com. Thank you.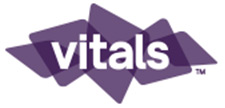 2013
Dr. Boettner is an extraordinary surgeon, mechanic and human being. I am forty years old this week and I have a new hip! Even though my bones are small and I am young, Dr. Boettner was able to do magnificent work. I visited several top surgeons and Dr. Boettner was the only one who thoroughly explained the process, and I was fully confident that he was prepared for whatever came along. It's been a month and I am pain free!
Just had bilateral hip surgery 4 days ago I have a long way to go and a lot of work to do but am very confident with the job Dr Boettner did and the Hospital HSS. I feel I was operated on by the best team and cared for at the best hospital. I have transferred to NSLIJ and the difference is apparent immediately.
I had total knee replacement on January 23, 2013. I was out of HSS on January 26. It is now February 21 and I am WALKING! My physical therapist told me that in his 25 years he has only seen one other person recover as quickly as I have and that person also had her knee done by Doctor Boettner. Both he and the Hospital for Special Surgery are WONDERFUL!
2012
I met Dr Boettner 2 weeks ago and am having my hip resurfaced by him on November 9th. I can't wait…he made me feel very good about my decision and feel lucky to have him perform my surgery
Dr. Boettner did my total hip replacement surgery in April. He is an excellent surgeon and I am completely satisfied with my results. I too am an overweight person. Not once did Dr. Boettner treat me any differently than other patients. After the surgery he did suggest losing some weight but this did not offend me. He's absolutely right!..the hips are weight bearing joints and it only makes sense to try to keep healthy
Dr. Boettner's professional demeanor,coupled with his depth of orthapaedic knowledge and his gift for educating his patient while in the same moment putting them at ease, is nothing short of brilliant! I have been a patient for several years, and most recently had a right knee total joint replacement. The surgical procedure, post-op protocol, and subsequent rehabilitation was thoroughly explained,and follow up appointments were exceptional with regard to questions and or advice related to my surgery. Dr.Boettner's staff is capable and considerate -from receptionists, nurses,interior office personal, and PA. They are pleasant, respectful, and a compassionate extension of the standard of care reflected in the practice of orthopaedic surgery by Dr. Friedrich Boettner. I am very fortunate and blessed to be the recipient of his care and would highly recommend him to any one considering Joint Preservation, Resurfacing and or Total Joint Replacement surgery.Sincerely, Barbara W. Cariello
Dr.Boetner replaced both of my hips last September… I have nothing but superlatives to describe my expierence with him. From the minute I awoke after the operation… I felt there was hope for a normal life. That was a feeling I had not felt in a long time… I am now pain free and 57 yrs old. I walk thirty to forty miles a week, even starting to run again… I am pain free…I need to say it twice as I am most grateful. I feel Dr. Boetner's expertise helped me finesse a lot of discomfort and recovery time.Again, I will say… He is a real PRO.
Hello, I am a doctor's daughter and i have to say I was very impressed with Dr. Boettner and his team of professionals. The speed with which I got an appointment and a surgery date was remarkable. His explanation of the THR was very clear and concise. He is young well spoken, energetic and has a great sense of humor. My recovery has been well ahead of other THR patients I have spoken with. I would highly recommend him to anyone looking for a hip replacement.
Exactly one week ago, Dr. Boettner performed a total hip replacement of my left hip at the Hospital for Special Surgery. The results have been much better than I could have imagined: I have felt virtually no pain; the swelling is minimal; I have been able to walk with a cane; and I have even done a little walking without a cane. The skill, care and concern displayed by Dr. Boettner and everyone else at HSS were all that I could hope for. If I need additional orthopaedic surgery (I'm hoping I won't), I would be sure to have it performed by Dr. Boettner.
Dr. Boettner is very talented surgeon. After consulting with 2 other hip specialists I chose Dr. Boettner because he was a straight shooter and urged me to do my both hips at the same time. All the other surgeon's wanted me to go through the procedure twice. This spared me the inconvenience and discomfort of two surgeries. I bounced back very quickly after having a bilateral hip replacement. Dr. Boettner's follow up after surgery is also terrific. I am now 3 months post op and back to my normal everyday life with no pain and no issue. I am grateful to Dr. Boettner for giving me my life back. I also thought that the Hospital for Special Surgery was the only place that anyone should consider going to for this type of surgery. The Doctor and the hospital are topnotch!
My hip replacement was done in September 2011. I am feeling great. I bicycle 26 miles, play beach volleyball and exercise 4 times a week. My biiggest problem is I have to learn to listen to my body and take it easy. Dr. Boettner has been fabulous along with his staff. They are professional, caring and friendly, an excellent team to work with. In addition my experience at the Hospital of Special Surgery has been a good one.
I would highly recommend him for hip surgery.
Dr. Boettner is very intelligent and is an expert in the latest joint replacement technologies. I highly recommend him.
I love the fact that Dr. Boettner has e-mail follow up and always answers my questions, but I pretty much hate everything else. Wait time was over 90 minutes, and he only spent about 7 minutes with me. Because of that, I think he missed the fact that I was having bursa issues in addition to hip joint issues. I ended up seeing another doc at HSS who doesn't even take my insurance, because I wasn't sure Dr. B was seeing everything. I think Dr. B. has potential, but he has to cut down on the number of patients he sees in a day, and spend more time examining and especially reviewing films instead of relying on the PA so much. Until then, I guess I'll be going out of network. (Wait time for second doctor was minimal, and time spent with me was terrific…and he is a much more senior guy.)
In 2011 I had my knee replaced. Everything went very smoothly. Although Dr. B might not advise it, I played a round of golf 50 days after my surgery. The PT were very surprised at my recovery as was I. Unfortunately, my hips have deteriorated and need replacement. I will definitely go back to Fritz. I have high confidence in his abilities. Last but not least, Dr.Boettner is a very likable guy. Someone you would like to hang out with and have a good German) beer.
Smart, confident, youthful, great expertise, inspires confidence. Not rushed during visits. Had hip replacement surgery with him, and highly recommend him, and also great staff.
It was a long time coming but I finally need to have my knee replaced. After searching around Dr Boettner was the top guy. And his hosptial was head and shoulders above everyone else. The procedure was not the horror I expected but an almost comfortable experience. Six months after its like it never happened, I feel great.
I had a meniscus tear on the inside of my right knee from playing soccer and needed a doctor with the right experience to do the right diagnosis and subsequently execute the appropriate procedure in the best possible way to be back on the pitch as soon as possible. After quickly finding a date at the hospital for special surgery to do MRIs and X-rays I had my appointment with Dr. Boettner. His friendly and confident demeanor makes you immediately comfortable with him. His diagnosis was spot on : meniscus tear where part of the meniscus had to removed through athroscoptic surgery. 2 weeks later I had surgery and it was very pleasant experience. Everything went exceptionally well and 4 weeks after surgery I have to play soccer.
Dr. Boettner has hands that accurately diagnose and cure. He is demanding of himself and everyone in his environment ensuring an excellent outcome. Better known as Fritz at HSS, he is warm and has a fine sense of humor. He always has a smile on his face and offers his extended hand. You cannot get a better safety net than Dr. Boettner at your side.
I visited Dr. Boettner and he quickly diagnosed my osteoarthritis in my hip. Within 2 weeks I was scheduled for surgery. He was fantastic. He answered all my questions, was very reassuring and made the entire experience as painless as possible. The aftercare and attention I received by his office staff was both professional and timely. The patient portal is awesome. I can't say enough great things about this doctor and his staff.
2011
I first met Dr. Boettner for consultation due to severe arthritic pain in both hips. The high degree of professionalism displayed by his staff was a pleasant surprise, and I was very satisfied after discussing what to expect from surgery with Dr. Boettner. I had done quite a bit of research on the surgery, and the doctor asked to see my question list, and then proceeded to answer each question thoroughly. I was happy to be able to have such a skilled surgeon to perform the hip replacements. I must say that when I awoke from surgery, I was completely coherent and felt fantastic! I mean, no arthritic pain when I turned, moved, etc. Even the surgical discomfort was limited and easily addressed by the pain meds available. Today, several weeks after surgery, I feel great and very pleased that I didn't delay in having the surgery. I highly recommend Dr. Boettner.
I consulted Dr. Boettner for hip/lower back pain. He examined me briefly told me the x rays showed some mild wear and tear osteoarthritis of my hip and gave me a cortsione injection.He was only interested in the hip and said the lower back pain was probably related to the hip.Visit # 2: Told me the MRI showed significant OA and a labral tear. I told him that the injection helped minimally and my lower back was acting up.He told me to get worked up by a physiatrist at HSS and regardless would need a total hip replacement within 5 years.He was pleasant, a bit rushed, competent and referred me appropriately. In the event I need future surgery, I would most likely use another HSS surgeon.
I live in Hurley NY, 90 miles from NYC, I had the choice of several very well qualified doctors in my local area. Dr. Boettner came so highly reccomended and qualified, my decision was very easy. Every aspect of my surgical experience with Dr. boettner was professional, pleasant hassle free and my outcome was above expectation. I am 47 years old and required a complete right hip replacement.At my young age I was concerened about my recovery and final outcome, I can tell you without reservation that Dr Boettner exceeded my expectations on every level.
I had left hip replacement surgery by Dr. Boettner in April, 2009. I was in pain walking, and now I can walk several miles a day again. Dr. Boettner was wonderful, great personality, excellent surgeon. I highly recommend him to anyone needing any type of hip or knee surgery.
Dr. Boettner was my third consult. Looked me in the eye and left the decision up to me about knee replacement. Had two within two years, told me I was his favorite patient. I think he tells all the 70 year old women patients the same thing. He is my favorite surgeon. I recommend him to several people who have knee and hip problems. Love his efficient staff. Mary denise loughran
In my opinion anyone who needs a new knee should NOT go to Dr. Boettner, I wasn't aware of how bad he is until I had my second knee replaced by another doctor. My recovery, including rehab, was substantially shorter & much less painful after my second surgery. Also, the incision was smaller & there was less swelling.
2010
Being a head wrestling coach and 35 y/o, I am very pleased with how Dr. Boettner dealt with my hip. I am over a year out and feeling great!
I had bilateral hip replacement two weeks ago. I was apprehensive but Dr. Boettner was very supportive and his office staff answered all questions quickly and efficiently. The surgery was done at HSS which I found to be exceptionally clean, has wonderful nursing staff, and I was gotten up the first day post op. I went to rehab after 4 days and worked hard on my PT and am now home continuing PT and walking with a cane. I am pain free for the first time in nearly 8 years and walking straight w/out a limp. I feel 10 years younger and as if I got my life back. Thank you Dr. Boettner.
Had a total Hip replacement. Dr. Boettner did a wonderful Job. Post operative care at the hospital was not very good, but it is still worse going if you have Dr. Boettner a surgeon.
2009
I had Biltaeral Hip replacements by Dr. Boettner in 2007. I traveled from Michigan to have this surgery as Dr. Boettner was recommended by a physician I worked with, Dr. Marc Phillapon of Vail. He was outstanding in explanation and patient through all of my many calls with questions. Because of my excellent health status and activity level I was a candidate for Bil.Hip replacements. My care was excellent, he even visited me at my rehab hospital next door to HSS. What a nice suprise. I stayed in New York for one month to continue aggressive rehab. In one month I flew back to Michigan and only needed to use a cane. My post op care included PT the 1st day post op. Without good PT post op it would probably have a different outcome that would not give me my full life back. He is very forward thinking on the importance of this post op. Dr. B offered to help out to make sure I felt comfortable and could have the surgery as we were having some issues with my insurance. I have 100% full mobility. I played tennis one year after the surgery, skiied and snow shoed this winter and workout 5 days a week. Even wear my coveted high heels again!! I went from a fast track downward spiral before surgery to a normal active life again. No pain and would highly recommend Dr Boettner to anyone who needs his specialty surgery in joint replacement and resurfacing!!
dr.boettner did an excellant job.i could not be more pleased.adhere to the rehab and you will not be disappointed.
2008
I had bilateral hip resurfacings in July 2008. Dr. Boettner gave me my life back. Great experience and perfect outcome.
Dr B did a great job…I am 50yr old man, in great shape, ex dancer. He was wonderful, and i hardly have a scar